Lavoslava Benčić
SPECULATIVE HYBRIDS
A multimedia project
In spite of extensive scientific research being done on the subject, the life of plants remains largely unknown to this day. Biomechanics are just barely scratching the surface when it comes to studying the mechanisms of their movement, structuring, mutual communication and their communication with their surroundings…
In her exhibit and in the project Speculative Hybrids, the author applies the findings of biomechanics, machine learning and artificial intelligence. She uses the processes which take place in plant systems to convert imperceptible signals to the range perceptible by human senses, and additionally generates and/or modifies the oscillation of the plants' frequencies (instruments) under the influence of the viewers' activities, and she also undertakes a modelling exercise, taking examples from the plant world and using them to try to predict the direction which evolution is going to take going forward, and whether it is possible for humans to affect evolution so as to ensure it is beneficial to them.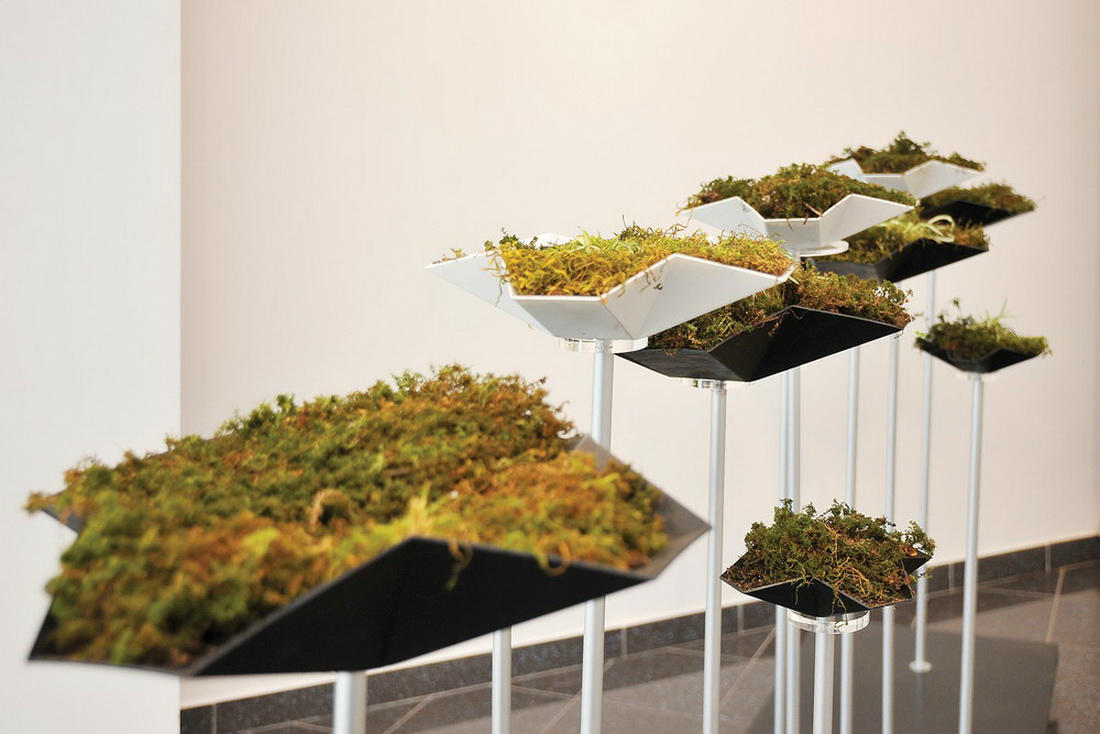 Lavoslava Benčić has worked as a freelance artist since 1985. She has gathered extensive knowledge and experience in the process of conceiving and managing media projects (video, graphics, photography, DIY electronics, machine learning, graphic sound etc.). She holds a Bachelor's degree in Engineering and Multimedia Production Management and a Master's degree in Media Art and Practice. Her works have been exhibited/presented/published in more than twenty countries around the world, and awarded fourteen times. She is a member of professional associations (ADA Artist, ZDSLU, DLUL, HUIU).
BridA/Tom Kerševan, Sendi Mango, Jurij Pavlica
PLANTPORTATION, 2019
A multimedia project
The flora of Europe as we know it today is composed of many and many species of plants of foreign origin that were once adapted and now grow freely on the continent. Nature is in constant movement due to climate change, human intervention and constant intercontinental exchange. The project Plantportation is about revising Europe's natural history, in particular plant migration. It question the concepts of local and foreign, adaptation, movement and migration. The project emphasizes the problem of perception of space by mixing the real and the virtual: it is easy for us to move, whereas for plants it is possible only in certain metamorphic states. The project also raises the question of the possibility of involving plants in our virtual lives, even if they are rooted in the ground, exploring the poorly researched possibility of telepresence of plants and looking after them at a distance. The concept of the project is to create an »inter-space« where people can temporarily assume a plant identity.
BridA/Tom Kerševan, Sendi Mango, Jurij Pavlica is a collective made up of graduates from the Venice Academy of Fine Arts, formed in 1996 during their university years. The group produces artwork across a wide spectrum of contemporary artistic practices exhibits both locally and internationally, and has participated in numerous international residency programs, workshops and seminars. BridA's works have been purchased for a score of international contemporary art collections. In 2015 they received the highest award of the Municipality of Nova Gorica, the France Bevk Prize, commemorating 20 years of their successful activity; in 2018 they received the international Tesla Award. They are recipients of the Iaspis scholarship awarded by the Swedish Ministry of Culture, and Culture Bridges, awarded by the British Council under the EU.
Ilya Dolgov
Forest Journal, 2013-ongoing
Online journal
The online project »Forest Journal« lies at the heart of Ilya Dolgov's artistic approach. The name is borrowed from the popular Soviet book for children about nature. The project consists of issues published on the web-site, each of them dedicated to a separate experience, narrative or concept. The artist and his invited colleagues do not give a direct answer to the main question of the project - "What is nature?" The search rather takes place through the development of various modes and shades of interaction with nature, various styles of discourse about it, various positions that a human can take in relation to nature (up to the denial of its existence). Over the years of its existence, Forest Journal has gone through several stages in the development of its language, from quasi-scientific naturalism to romantic symbiotic poetry and careful attention to specific situations and interactions of various beings.
"This text was written in 2016 - a few mushroom seasons ago. It was the first time when I approached forest from theoretical perspective. My perception of forest as a place has changed today. Previously, I was interested in a person's place in the forest, now – in a forest's place in a person. A person, as Sudesh Mishra puts it, "as a singular life, mine or yours, as an ever-changing zoē-assemblage". Thus, my interest swiched from justice to respect and care towards all forms of life especially in climate crisis era. Currently, I would rather think how we can invite forest – not just visit it, to invite it in order to be attached to life in general and get rid of "hierarchical thinking founded on our general disregard for the assemblage in which we are an element among others.« (Mishra, 2019)"*.
"In The Poetics of Space (1969), Bachelard describes house/home as the 'real cosmos', the first universe that shapes the understanding of all spaces outside. According to Bachelard, interior spaces of the home pro- vide 'appropriate places for the soul or psyche'. Khatyn Forest is a place of childhood, my 'daydreams' in 'solitude'. I found Bachelard's approach to home relevant to the understanding of outside places, where past moments of depressive, pleasurable, and inspiring solitude are located in the basement of shady conifers and on attic branches of the forest. When I write about Khatyn forest my language becomes softer and my critical optics are slightly fogged with poetry. As Bachelard (1969) puts it:
Memories of the outside world will never have the same tonality as those of home and, by recalling these memories, we add to our store of dreams; we are nev- er real historians, but always near poets, and our emotion is perhaps nothing but an expression of a poetry that was lost."*.
"When I realised my sense of home is in the forest I started to think about its 'past inhabitation', what it witnessed in different times and how the memories of others inscribed in space. Other individuals may understand Khatyn forest as their own 'perceptual' space and place. In The Lure of the Local (1997), Lucy Lippard states that our own location is 'layered'. Being laced with individual accounts, the place is full of 'marks' - 'human histories and memories'; a place is characterized not only by the 'width' but also with the 'depth'. My forest is repleted with shadows and ghosts of familiar and unfamiliar people. My solitude is among the crowd. The silent walks are speechless conversations with many in fact. Silence does not exist in John Cage's 4'33" (four minutes, 33 seconds) Sounds Like Silence performance (1952), and, projecting it on the forest, there is no total isolation as well as the virginity of landscapes."*
*Inha Lindarenka, "Silent Hunting", extracts from the Forest Journal #11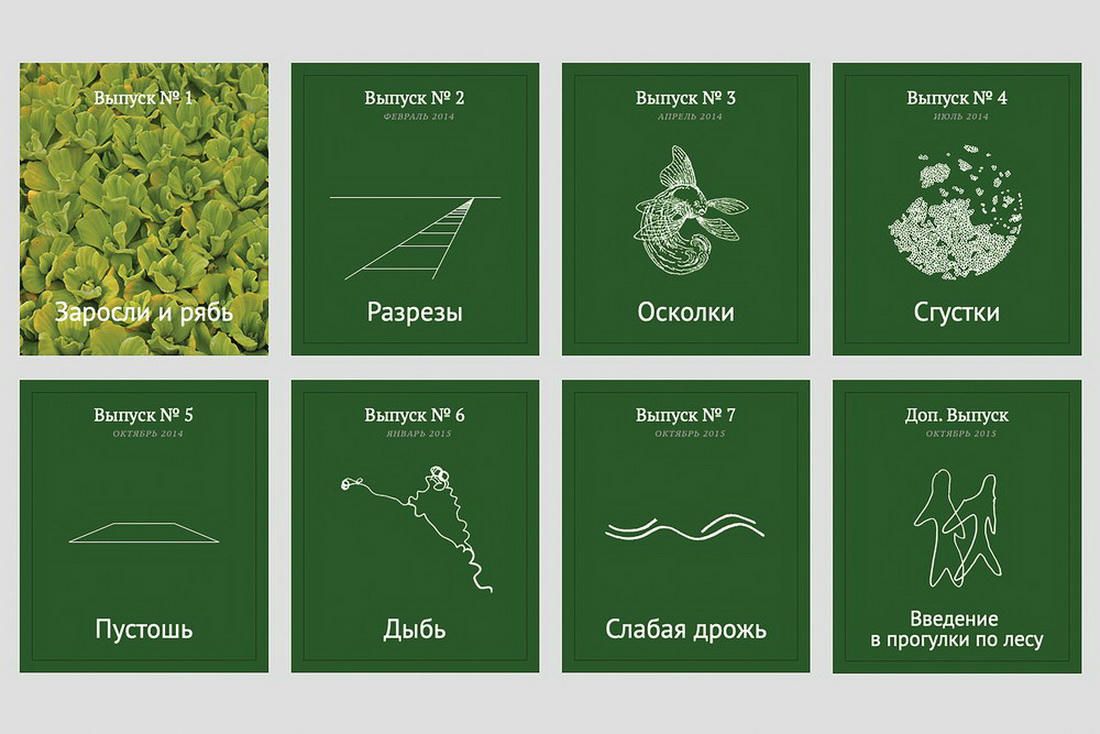 Ilja Dolgov, born in 1984 in Voronezh, Russia. Lives in Kronshtadt, Russia.
Co-founder of Voronezh center for contemporary art. Winner of the "Innovation 2012" Russian state award in the sphere of contemporary art, "The best regional project" nomination. Nominee of the "Kandinskiy Prize" for contemporary art in 2013 and 2015. Winner of the granting program of the "Garage" museum of contemporary art in 2013. Winner of the "Credit Suisse and Cosmoscow art prize for young artists 2016". Works with XL Gallery (Moscow).
fantastic little splash, Lera Malchenko & Oleksandr, Hants
similar image, 2021
Essay film, 9'33''
* •On the beach or in the forest, when you close your eyes, you hear the sound of the water, the wind, the rustling leaves, the insects. You can still hear the motorboat, a ringtone, the highway, a drone buzzing by, a plant. When you close your eyes and just listen, the sounds mix; gently comes the realization that all this nature is neither the first nor the second, it is a canvas, yourself included. But as soon as you open your eyes, you notice order everywhere. The human ordered the world more and more rapidly, until he found himself in the forest — unpredictable and magical * • It seems that if you go deeper, you will have to expose yourself to danger and disappear * it also seems that this disappearance is not about absence, but about another form of presence.: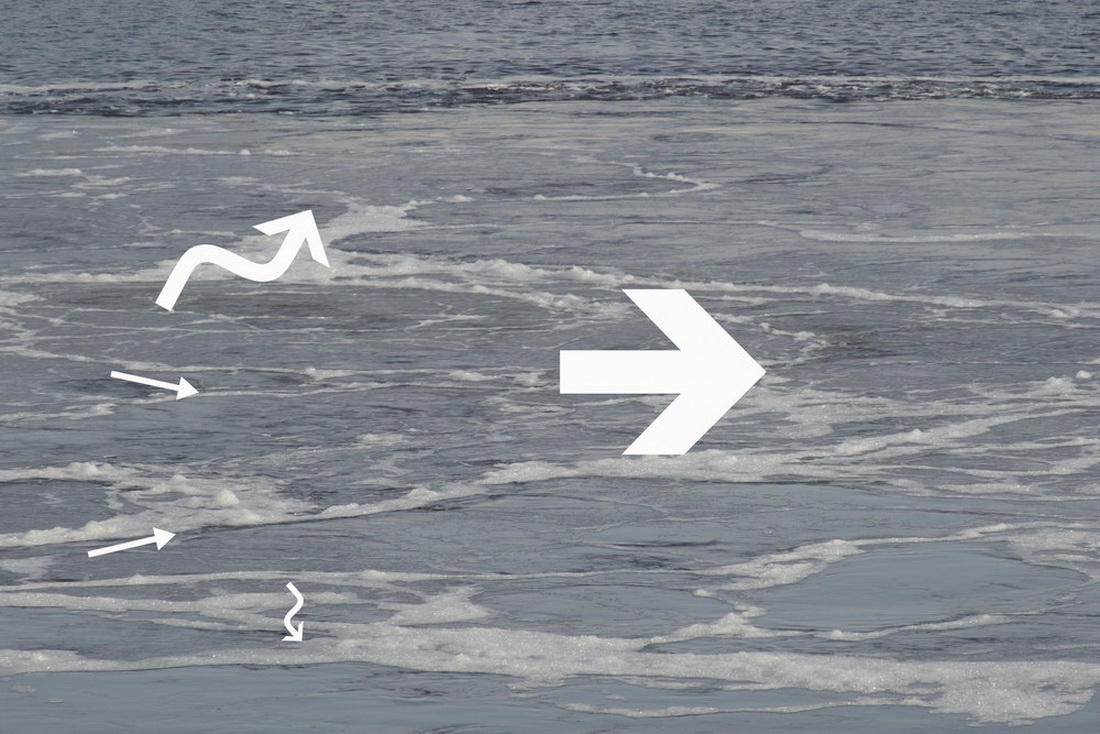 fantastic little splash is a collective comprising journalist/artist Lera Malchenko and artist/director Oleksandr Hants. Collective combines art practice and media studies.The collective was created in 2016. The fantastic little splash projects were presented at Plokta TV, post.MoMA, Pochen Biennale, The Wrong biennale, Milane Machinima film festival, Allied Kyiv Biennial 2021, KISFF, Docudays, Construction festival VI x CYNETART, Revelation Perth International Film Festival among others.
Daryna Fes
Spheres, 2021
VR experience
Our world is large and beautiful, intricate and magnificent. This complexity can also be disturbing and even devastating. We are born in one small place of it, growing up and learning to comprehend it, objectivate it. But it is always subjective: our perception of life is constantly changing – depending on people we communicate with, society we live in, information we know about and even mood we have today. The choices we made, whether conscious or accidental, create this temporal sense of stability.
In this virtual reality you find yourself in a space of numerous spheres, each consisting of different sounds, colors and creatures. You can stay as much as you want or you can move into another sphere. The path is determined only by your choice. But you can never go back or break out of the sphere. Your last point will be the starting point for the next person to enter.
All the objects, sounds and textures used in the work are from open source sites. Spheres have a cubemap material, a special type of texture used in computer graphics. The environment is projected onto six faces of the cube and stored; then it could be applied to a spherical model and when you are inside you have the illusion of being in infinite open space.
Daryna Fes is an independent artist working primarily with interactive VR. She is interested in discovering a potential of the technology as a separate form of art. Main themes of her projects are differences and similarities between physical and digital worlds, ways of transition from one world to another and our [un]awareness of it, concepts of infiniteness and limits, perception of the human body and emotions. She is using game engines to program environments that react to viewer's presence. Projects were presented at Experiencing extended realities, Virtualite, Exhibition of Achievements of Ukrainian Media Art, Frontier VR Art Festival, Tetramatyka and others.
Gijeong Goo
Exceeded Scenes, 2021
Video installation
Exceeded Scenes is a work inspired by the soil formed out of animal and plant remains through erosion and weathering. First, he uses a macro lens to photograph things that can be easily observed in ordinary soil: dirt, dried leaves, moss, insects, and so forth. He then edits them in 3D virtual space to produce still and moving images with an otherworldly quality. Arranging them together with actual dirt, branches, and other items from nature, he creates a space where the viewer can experience the underground world in unique ways. As it creates different layers within and beyond the moving image, the work offers viewers an opportunity for a new experience with the world within the earth.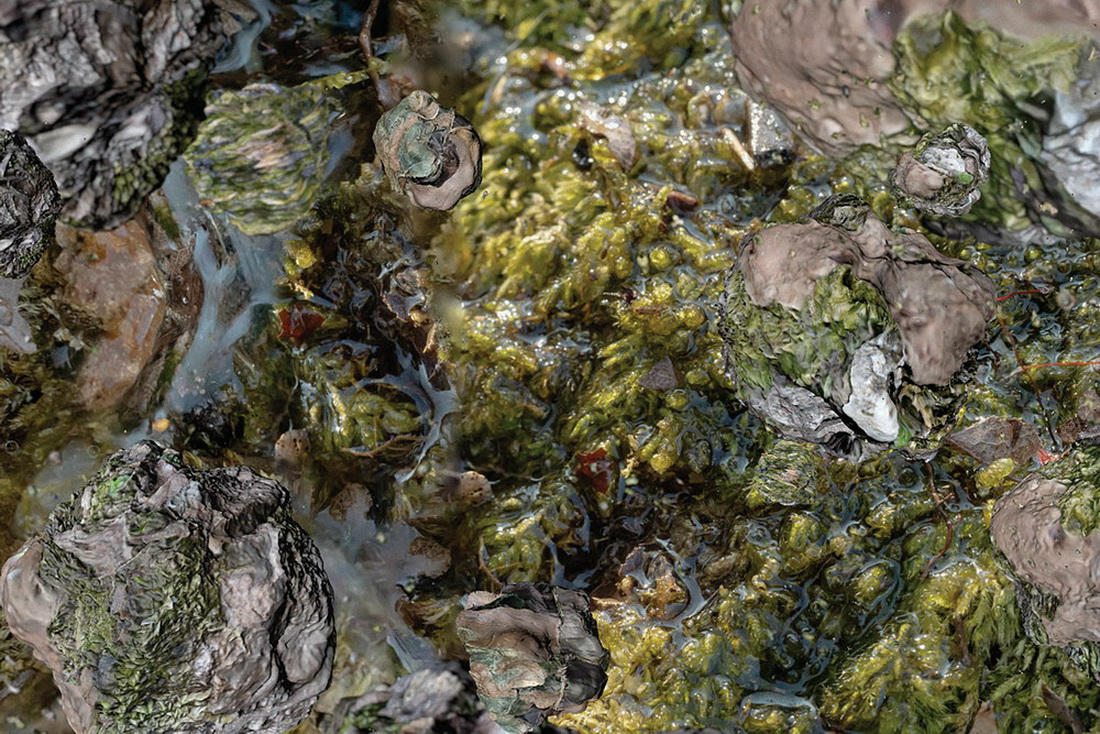 Gijeong Goo, based in Seoul, South Korea, has been working to examine the relationship between humans, machines, and nature while reproducing real landscapes as digital images based on 3D rendering and realizing them as images and installations in physical space. The real landscape processed by digital technology in this process is grafted with the unreal nature of augmented reality, evoking an ambiguous sense located at the boundary between the real and the virtual. He majored in Communication design media in Hongik University and received his master's degree in photography from the Lausanne University of Arts in Switzerland in 2019.
Maša Jazbec
What kind of future do you envision with robots?
Lecture
This question is at the core of human robot interaction, an inherently interdisciplinary research aspiration. Human robot interaction research brings together engineering and social science, cognitive science, neuroscience, ethics and arts. Humans have a strange response to things that are lifelike, but not alive. Robotics is as much a study of people as it is about robots; it requires us to reach insight into a new and dynamically changing relationship between human and intelligent machines. By creating robots, we can reflect on humanity and consequently understand humans better. Learning from human behavior is critical for developing robots for the real world.
In the lecture we also discuss Android Science. The development of robots that closely resemble human beings can contribute to cognitive research. The approach of cognitive science uses the android robot for verifying hypothesis for understanding humans. We call this cross interdisciplinary framework Android Science.
http://masajazbec.si/
https://www.mcruk.si/en/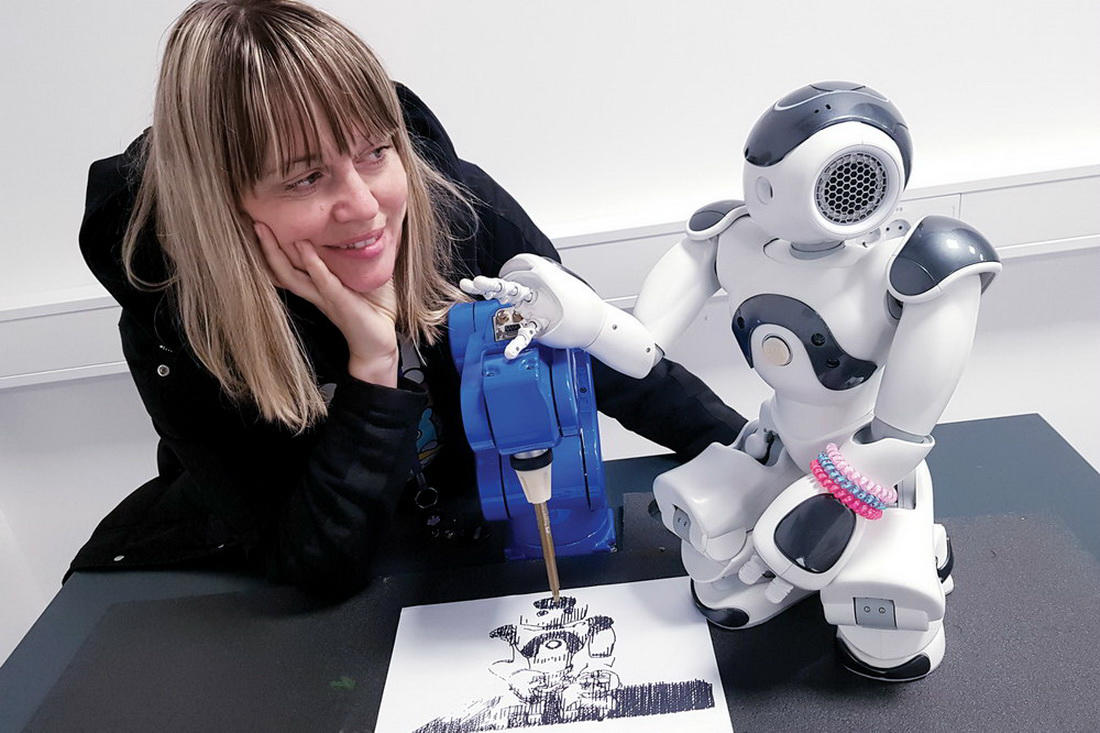 Maša Jazbec is an artist, curator and researcher. She holds a Ph.D. in human informatics, attained at the University of Tsukuba (Virtual Reality Lab) in Japan, and a M.A. in Interactive Art, conferred by the Interface Culture at the Univ. of Arts and Design Linz. She was a visiting researcher at Ishiguro Laboratory at ATR, where has deepened her research in human-like robotics and android science also in practice. She is engaged in developing the vision and the execution of the Trbovlje New Media Setting project in Slovenia, and was curating events integrating science, art and technology at the new media culture festival Speculum Artium.
Her projects, exhibited as artworks, have always shown her understanding of new media as a research artistic practice, stemming from artistic and scientific thought, linked to the current situation in the contemporary society. Her latest research interests are mostly focused in social robotics and android science. She presented her research at conferences such as Computer Human Interaction, Human Robot Interaction, ISEA and System Man and Cybernetics IEEE.
Currently she is leading DDTLab in Trbovlje, Slovenia. DDTLab is a research lab operating in the fields of cybernetics, virtualization, BCI systems, and robotics.
P L A T E AU R E S I D U E, Eva Pavlič Seifert × Aljaž Celarc
SUB PERSONA, 2019
Video installation
Research project Sub Persona focuses on the importance and ethics of human management of forests. Since human first settlements, to contemporary industrialised forest resource exploitation and deforestation, human impact have led to a decrease in the extent, quality, and condition of the self-regulatory mechanisms of the forest ecosystems.
Throughout history complex inter-species relationships and energy flows have enabled the forest ecosystems to successfully adapt to the effects of climate change, such as natural disasters. Today forestry scholars study the functioning of self-regulatory mechanisms in the remaining virgin forest reserves. Their new discoveries help to lead the management of other forests, as these are more vulnerable to the effects of climate change, compared to virgin forests.
Sub Persona emphasizes the shared responsibility of humanity to use modern methods to understand and recognise the complexity of forest ecosystems and develop sustainable management techniques that are based on the convergence of ecosystemic, economic, recreational and cultural functions, which are too often taken for granted by humans.
The film features Tomaž Hartman of the Forest Service, forest logger Nevenka Gregorčič, SiDG Slovenian State Forests, d. o. o., the Saw Mill from Loški Potok and forester/ hunter Brane Poje.
The music was created by Domen Učakar under the creative name Lifecutter. In his creative process, he leans against the background of noise and draws from various editions of electronic music, especially technoid sounds.
P L A T E AU R E S I D U E is an imaginary identity of award-winning duo Aljaž Celarc (BA in Geography [Faculty of Arts, SI] & MA in Photography [AKV St. Joost, NL]) and Eva Pavlič Seifert (BA in Art History [Faculty of Arts, SI] & MA in Visual Culture [Aalto University, FI]). They work with landscape ecology and new media to research new ways of raising public awareness. They always give voice to project participants, natural forms such as rocks, air, organisms, and other clusters of substances, which they reorganize into new unusual forms and new media systems. The baseline of their artistic production are immersive video installations.
The tandem lives and works in Slovene village of Novi Kot, in the forest hinterland of Goteniška gora and Snežnik.
Robertina Šebjanič
CO_SONIC 1884 KM², 2021
A multimedia project
Rivers are dynamic bodies of water, constantly changing and shaping their beds. These changes occur on a space/time scale that is more easily perceived by the smaller creatures living on or near the riverbed than by humans. For this reason, the project Co_sonic 1884 km2 considers the river from the perspective of its animals. In doing so, Robertina Šebjanič departs from an anthropocentric view of the world and opens up a different way of looking at the "seven names of Ljubljanica" that we often overlook. This is a perception of the body of water – that has been given seven different names because the same river cuts a route through the underground karst and therefore, in some places, eludes our view, which is limited to the surface where it appears as separate bodies of water – as an integral whole.
Artist (concept, sound, photo & video editing, execution): Robertina Šebjanič Curator of the commission at Museum and Galleries of Ljubljana: Alenka Trebušak Photo and video recording on the field: Miha Godec Production of audio-video installation: Museum and Galleries of Ljubljana Co-production: Sektor Institute This project was possible by: City of Ljubljana Special thanks: to 1884 km2 of riverbasin and the rivers, streams and lake: Trbuhovica, Obrh, Stržen, Cerkniško jezero, Rak, Pivka, Unica, Ljubljanica…
The audio-video CO_SONIC 1884km2 by Robertina Šebjanič, is a commission work in a series of projects taking place in the run-up to the opening of Cukrarna Gallery.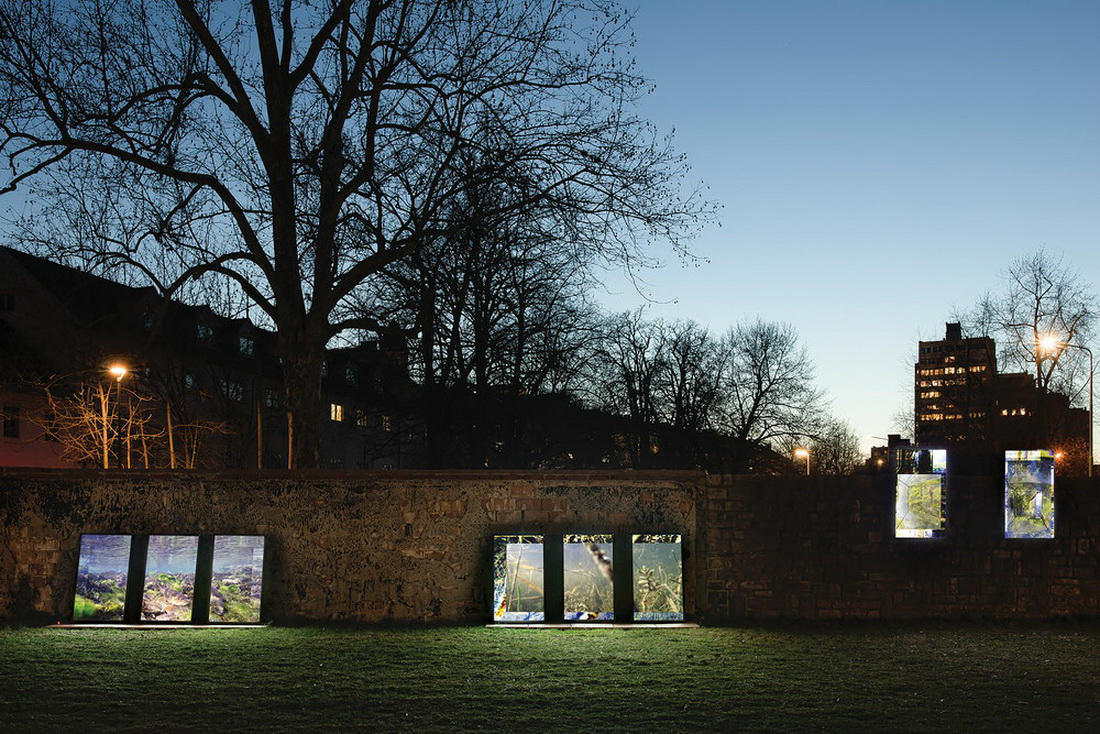 Robertina Šebjanič is an internationally awarded artist, whose work revolves around the biological, chemical, political and cultural realities of aquatic environments and explores humankind's impact on other species and on the rights of non-human entities, while calling for strategies emphatic towards other species to be adopted. In her analysis of the theoretical framework of the Anthropocene, the artist uses the term 'aquatocene' and 'aquaforming' to refer to humans' impact on aquatic environments.
Zergon
Aleš Hieng
Zergon (Aleš Hieng) is a DJ, music producer of electronic music and sound artist from Ljubljana, who also works in the field of audiovisual performances and in the vast field of DIY electronics.. He is interested in club music as well as in sonic explorations and audio-visual experimentations. His sound ranges from deep-house and techno to IDM, experimental electronics, noise and abstract drone. He is a member of Synaptic Crew since 2003. His musical performances are based on improvisation - live programming of rhythmic patterns, melodic sequences, sound design, playing effects, and mixing everything with field recordings. His tracks can be found on numerous Chilli Space compilations, Kamizdat compilations and more recently on his Bandcamp page as well.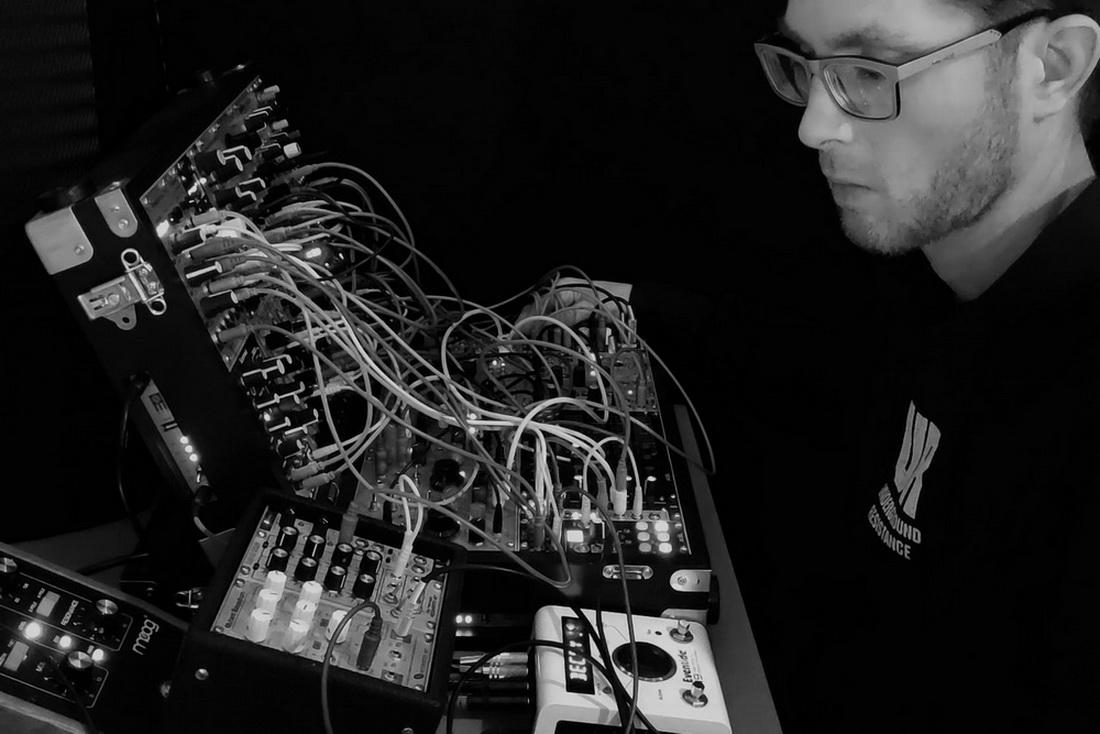 He collaborated with the artist Robertina Šebjanič on the audio-visual project echo 10-9. He is the co-author of the ongoing sound-chemical installation Time Displacement - Chemobrionic Garden in collaboration with Robertina Šebjanič and Ida Hiršenfelder, which was exhibited in 2016 at the Ars Electronica festival in Linz, as part of the exhibition Radical Atoms. He is also the co-author of the sound installation Sound Disposition - Crystal Gardens with the mentioned artists.
Brane Zorman
The Tree Spirits | Touch
Live performance in 3D spatial sound using headphones
The Tree Spirits| Touch sound work reflects on the life of a tree, speculating on its acoustic component, and explores the interaction of an individual part of a plant with the colony of organisms and the forest biotic community. The sound recordings give voice to the existence of a tree in its annual and life cycles which begin and end in silence. The silence anticipating the springtime resurgence of sap flow, and the silence of destruction caused by climate change, drought, and fires.
The artist zeros in on the touch; touch as an expression of genuine concern and awareness of the coexistence with plants, and a destructive touch of environmental devastation. The sounds of touching a tree trunk, branches rubbing against each other, the crushing of loose bark, the foliage, the rustling of trees in the wind, water drenching the roots – an acoustic journey through the physical existence of a tree. All the way to branch breaking, tree falling and a fire, a warning of the upcoming drought which is always a hard blow to a forest habitat.
The composition with the recorded and processed tree sounds, produced both within the organism as well as when touched by a human or the environment, builds an emotional and dramatic narrative charged with the natural and amplified sounds comingling and entwining. A dynamic live performance in spatial 3D sound on headphones pulls the listener in the very centre of a sound happening.
Link: Brane Zorman: Duh dreves - Steklenik
Part of the equipment of the konS platform project is used in the performance.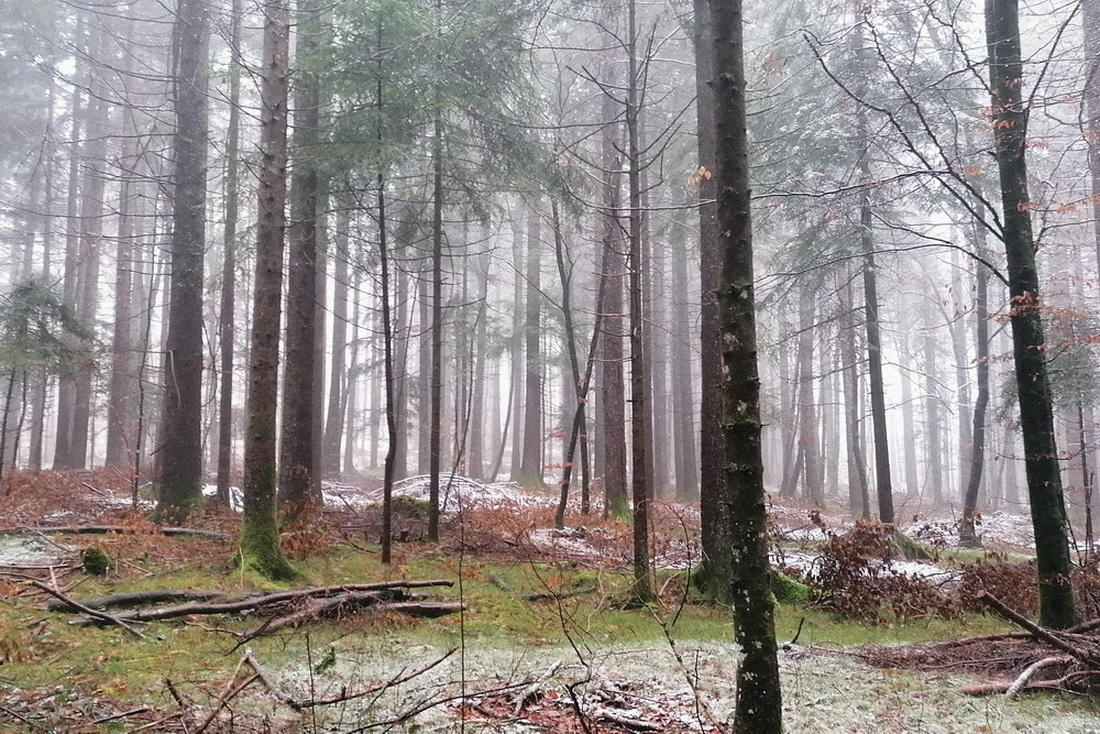 Brane Zorman, composer, curator, sound and radio artist, sound manipulator and producer, living in Ljubljana, Slovenia. He has composed numerous soundworks for theatre, dance performances, new media, internet projects, exhibitions, and events. In his work, he explores the possibilities of processing, presence, perception, placement, and reinterpretation of sound. He developed special interest in uncovering the unseen, unheard and hidden presence of the sound, vibrations, radiation like EMS spectrum, Earth trembling, and plants communication. By using both sophisticated and simple tools, he constantly develops strategies, methods, dynamic and interactive interpretation models, soundscapes, ending in evolving electroacoustic sound sculptures.
He has curated and led projects such as ZVO.ČI.TI so.und.ing, ZVO.ČI.TI so.und.ing DUO, CTR series, Hidden Materia I in II, EMS Memory Trackers, Lu-na Mo-on reflect, numerous compositions in spatial sound, soundscape recordings, podcasts, theatre shows and installations.
With Irena Pivka he has co-founded CONA Institute for Contemporary Arts Processing with whom he co-curates radioCona - A legal temporary project radio for contemporary art and platform using radio-frequency space in the art contexts and Steklenik Gallery for sound, bioacustics and art, performative sound walks: Walk The City, 2.WALK, Sandbox, and conceptualises other CONA projects and events. He is member of JATA C – a Slovenian bio-electro-acoustics sound research group.
www.branezorman.si
e-mail: brane@cona.si
GSM: +386.40.418.681
skype: mcbrane
Other reference links:
www.cona.si
www.steklenik.si
www.radiocona.si