---
3-D models and literary itineraries: Narvika Bovcon, Aleš Vaupotič
Texts: Ana Toroš
Coding: Borja Bovcon
Student: Anej Žagar
Itineraris leteraris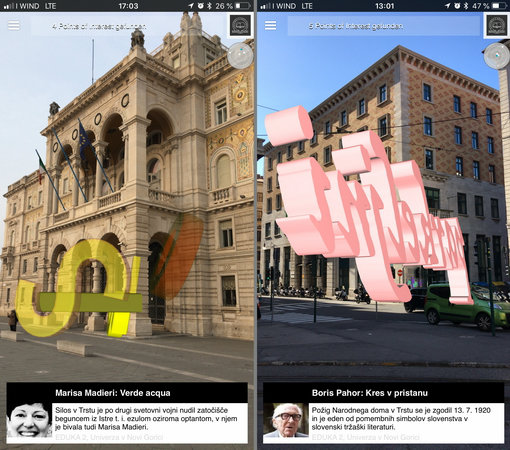 The augmented reality—i.e. its geolocation-based version—points the user's attention to the significant aspects of her surroundings. These are often present implicitly, and differently for each cohabiting community. The monuments in augmented reality make these "layers" visible—the user's perception is thereby augmented. Our project has placed three literary itineraries in the area between Gorizia, the Trieste region, and Friuli.

In order to create an augmented reality that is linked to a specific location, one needs (1) to collect and design the contents that contribute to the experience of a given living space; (2) record them in a database; and (3) design a user experience that is readily (and easily) available to the users. The project consists of three entangled parts: the point of view of literary scholarship, of archival studies, and of human-computer interaction design. Ana Toroš led the creation of two textbooks in several languages on literature in the contact region of today's Slovenia and Italy. In collaboration with the IT team, Narvika Bovcon and Aleš Vaupotič developed the integration of points 2 and 3: the realization of the monuments on Layar and other platforms. The key concern of our approach was to keep all the materials (3-D objects, videos, websites, etc.), as well as the information on their placement in real space, on the servers of the University of Nova Gorica, which is necessary to guarantee that the dataset can be reused (CC-BY).

Narvika Bovcon is an associate professor of video and new media at the Faculty of Computer and Information Science, University of Ljubljana. She conducts her research in digital humanities, new-media art history and theory, information visualization, and human-computer interaction design. Since 2016 she has beenis the editor-in-chief of the journal Likovne besede/Art Words.

Aleš Vaupotič is an associate professor offor literature and digital humanities at the University of Nova Gorica. He combines the scholarly and artistic approaches. Research interests: semiotics, theory of discourse, theories of new media, and realism in the arts. Bovcon and Vaupotič are new-media artists working on media archives, virtual interactive environments, and video and digital animation projects. Together they curate and produce new-media art (ArtNetLab, International Festival of Computer Arts Maribor 2004 – 2006, Pixxelpoint 2007).